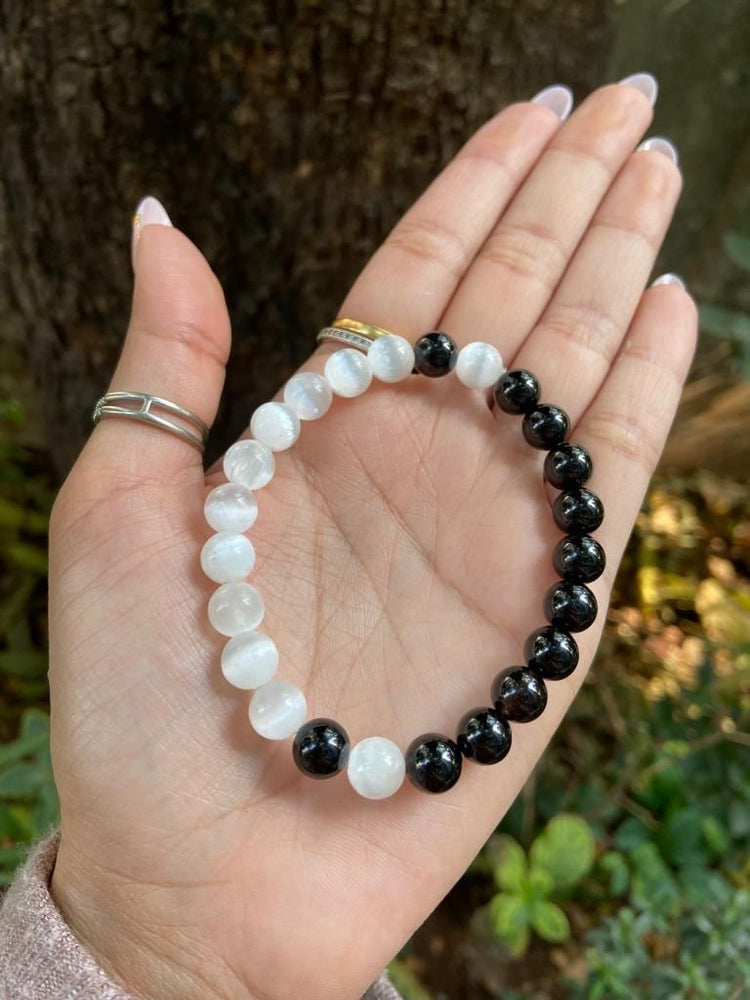 SELENITE AND BLACK TOURMALINE BRACELET
A selenite and black tourmaline bracelet is a beautiful and powerful piece of jewelry that combines the healing properties of two potent crystals.
Selenite is a translucent white crystal that is known for its ability to cleanse and purify energy. It is a powerful crystal for spiritual work, meditation, and healing, and is said to enhance intuition, clarity of mind, and spiritual awareness. Selenite is also believed to help remove negative energy from the body and the environment, making it an ideal crystal for anyone seeking to clear away negative thoughts or emotions.
Black tourmaline, on the other hand, is a grounding and protective crystal that is believed to help block negative energy and electromagnetic radiation. It is said to help reduce anxiety, stress, and feelings of overwhelm, and is often used by healers and energy workers to create a protective shield around the body. Black tourmaline is also believed to help with physical healing, particularly in relation to the immune system and the adrenal glands.
When combined in a bracelet, selenite and black tourmaline work together to create a powerful and harmonious energy that can help balance the mind, body, and spirit. The bracelet can be worn on its own or combined with other crystals for a personalized healing experience. It is important to note that while crystals can be a powerful tool for healing, they are not a substitute for professional medical care.